Here at CEF you're not just another driver, you're a friend and an asset.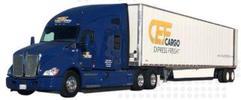 Cargo Express Freight Transportation Inc
Recruiter Information
Cargo Express Freight Transportation Inc
174 W. Lincoln Ave #545
Anaheim, CA 92805

Job Listing
Job Title
Here at CEF you're not just another driver, you're a friend and an asset.
Endorsements
None Required
Type of Position
Fleet/Company Driver
Experience Level
Required
0 Years
Job Description
Local Hourly Rate $20.00 - 23.00/hour
OTR Rate: $0.35-$0.50/mile (based on experience and MVR)

BENEFITS INCLUDE:

Medical, Dental, and Vision available after 60 days!
Mileage Bonus
Safety Bonus
Paid training program for new recruits

This driver role is responsible for driving a tractor trailer intrastate and/or interstate on local and/or overnight routes to deliver to various shippers and receivers. All routes are expected to be completed safely in accordance with all company policies and Department of Transportation (DOT) regulations. The driver communicates and interacts with customers, vendors and co-workers professionally ensuring all services and duties are executed in accordance with preferred work methods and customer service practices.

Perform all required safety checks (i.e. pre/post trip) including inspections of tractor/truck and trailer according to Department of Transportation (DOT) regulations; inspect tractor/truck and trailer to insure they meet company safety standards and take appropriate action as needed. Report all safety issues and/or repairs required.
Follow all DOT regulations and company safe driving guidelines and policies. Immediately report all safety hazards.
Inspect trailer for properly loaded and secured freight. Perform count check of items and check customer invoices of products that have been loaded. Check and complete in an accurate and in legible fashion all required paperwork associated with freight.
Drive to and deliver customer orders according to predetermined route delivery schedule.
Ensure that tractor, trailer and freight are always appropriately locked and/or secured.
Ensure trailer is clean of trash/debris after each delivery is required.
Complete daily record of hours of service and enter in log in accordance with Federal DOT, state and company requirements.
Perform general housekeeping duties in tractor, loading dock area and keep trailers clear and clean as required.
Performs other related duties as assigned.
Required Experience
3-12 months of commercial driving experience
Required Qualifications
High school diploma/GED or state approved equivalent
Valid CDL A
Meet all State licensing and/or certification requirements (where applicable)
Must be 21 years of age
Clean Motor Vehicle Report (MVR) for past 3 years
Pass post offer drug test and criminal background check
Pass road test
Valid current DOT Health Card and/or able to secure new DOT Health Card
Able to communicate with dispatcher about load update or issue. Must be able to communicate with mechanics regarding updates or issues with the tractor or trailer.
Preferred Qualifications
1+ years of commercial driving experience
Bilingual
Hand-held point of delivery scanning system experience (i.e. POD)
Customer service-related work experience
Click here to apply now https://cargoexpressfreight.com/
Other positions at Cargo Express Freight Transportation Inc
Other positions in California