CDL Truck Driver | Dedicated Elwood Paper Fleet - Columbia Heights, MN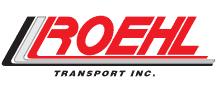 Roehl Transport
Recruiter Information
Roehl Transport
1916 East 29th St
Marshfield, WI 54449

Job Listing
Job Title
CDL Truck Driver | Dedicated Elwood Paper Fleet
Internal Job ID
CDLTruckDriver|Dedicated|ElwoodPaperFleet55421
Position Location
Columbia Heights, MN
Position Postal Code
55421
Endorsements
None Required
Experience Level
Required
0 Years
Job Description
This dedicated truck driving job offers mostly no-touch freight delivered within a few hundred miles so you'll be pretty close to home when you are working.

Drivers tend to stay on this fleet saying that work, home time and pay are like "clockwork".

The customer's freight is often scheduled by appointment later at night or early morning, and your loads will mostly be planned several days in advance. That means you do not have a lot of waiting at the docks.

The main reasons so many Roehl drivers like this fleet (and stay on it a long time) is that the miles are consistent, the freight is really driver-friendly and the drivers keep moving with proactive fleet managers and pre-planned loads.
How much will I make?
This fleet had a recent pay increase!
Experienced drivers are averaging nearly $60,000 a year.
Roehl pays practical miles – 5-8% more than HHG miles
When will I get home?
Weekly home time
34 to 48 hours (not guaranteed weekends)
Your trips are about 5-6 days in length
Where will I drive?
Primary operating lanes for this truck driving job are mainly through Illinois, Saint Louis, Missouri, Indiana and Ohio.
What will I haul?
Mostly no-touch van freight (paper and related products) for a single, established customer.
This fleet is known as our Dedicated Elwood Paper fleet. The fleet is based in the Chicago area, and there are openings for drivers in a few other areas as well.

You can join as an experienced driver, or, if you are a student/new-to-trucking driver, we will pay you for CDL training to develop your driving career.
Other positions at Roehl Transport
Other positions in Columbia Heights, MN
Other positions in Minnesota
Other positions for Van Truck Experience