Company Drivers $75,000 plus earnings potential! - Thompson, IL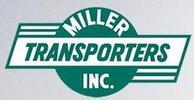 Miller Transporters
Recruiter Information
Miller Transporters
5500 Hwy 80 West
Jackson, MS 39209

Job Listing
Job Title
Company Drivers $75,000 plus earnings potential!
Position Location
Thompson, IL
Endorsements
Hazardous Materials, Tanker
Type of Position
Fleet/Company Driver
Experience Level
Required
0 Years
Job Description
Miller Drivers get paid for all their work. Whether driving, loading, or waiting, they're earning.
Call now to speak to a recruiter (855) 725-4372
DRIVER PAY PACKAGE
SINGLE
▪$0.46 per mile
▪$0.0450 per mile per diem (Per Diem for trips over 50 miles)

LOAD / UNLOAD PAY
▪$18.50 per load/unload time for the first two hours and then $16.95/hour thereafter
▪$16.95 per hour for local loads < 50 miles

DRIVER BENEFIT PACKAGE
Free Insurance for Driver and Family

Company paid vacation up to 5 weeks per year

Company paid pension

Eight (8) paid holidays

Wait time pay

Sleeper berth pay

Tank cleaning pay in excess of two (2) hours

Pre-trip and post-trip pay

Paid training including transportation, meals and lodging

Direct deposit of payroll checks available

Credit union

Assigned equipment

Satellite communications

E-log

Driver Referral Bonus Program

Safety Incentive Program

Layover pay



DRIVER QUALIFICATIONS
▪ Valid Class-A CDL with tanker and hazmat endorsements
▪ Recent tractor-trailer experience.
Truck Type: Tanker Endorsements Needed: tanker and hazmat endorsements
Experience Required: Recent tractor-trailer experience

Or Visit MillerDriving.com
Other positions at Miller Transporters
Other positions in Illinois
Other positions for Tanker Truck Experience