Company Drivers $75,000 plus earnings potential! - Mobile, AL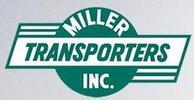 Miller Transporters
Recruiter Information
Miller Transporters
5500 Hwy 80 West
Jackson, MS 39209

Job Listing
Job Title
Company Drivers $75,000 plus earnings potential!
Position Location
Mobile, AL
Endorsements
Hazardous Materials, Tanker
Type of Position
Fleet/Company Driver
Experience Level
Required
0 Years
Job Description
Miller Drivers get paid for all their work. Whether driving, loading, or waiting, they're earning.
Call now to speak to a recruiter (855) 725-4372
DRIVER PAY PACKAGE
Singles
▪$0.5100 per mile loaded
▪$0.3750 per mile empty

Teams
▪ $0.2750 per driver loaded
▪ $0.2125 per driver empty

Load / Unload
▪$18.70 per hour starting at scheduled load/unload time – no free time

Non-Productive Pay
▪ $16.65 per hour
DRIVER BENEFIT PACKAGE
Free Insurance for Driver and Family

Company paid pension

Company paid vacation up to 5 weeks per year

Eight (8) paid holidays

Per-diem meal pay

Sleeper berth pay

Wait time pay

Paid training including transportation, meals and lodging

Guaranteed time off

Direct deposit of payroll checks available

Credit union

Assigned equipment program

Satellite communications

Driver Referral Bonus Program

Safety Incentive Program

Layover pay

Linen Allowance
DRIVER QUALIFICATIONS
▪ Valid Class-A CDL with tanker and hazmat endorsements
▪ Recent tractor-trailer experience.
Truck Type: Tanker Endorsements Needed: tanker and hazmat endorsements
Experience Required: Recent tractor-trailer experience
Or Visit MillerDriving.com
Other positions at Miller Transporters
Other positions in Mobile, AL
Other positions in Alabama
Other positions for Tanker Truck Experience