CDL Truck Driver | Van Intra-Florida Fleet - Orange Park, FL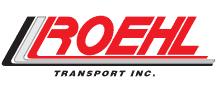 Roehl Transport
Recruiter Information
Roehl Transport
1916 East 29th St
Marshfield, WI 54449

Job Listing
Job Title
CDL Truck Driver | Van Intra-Florida Fleet
Internal Job ID
CDLTruckDriver|VanIntraFloridaFleet32065
Position Location
Orange Park, FL
Position Postal Code
32065
Endorsements
None Required
Type of Position
Fleet/Company Driver
Experience Level
Required
0 Years
Job Description
Operate in Florida! This regional trucking job is based out Jacksonville, Florida and parking is at our Jacksonville drop yard.

Roehl Jacksonville Drop Yard
6200 Soutel Dr.
Jacksonville, FL 32219

You'll haul a variety of dry van freight (a mix of drop-and-hook with some live load/unload) as well as delivering relays to and from our Jacksonville yard.

You'll work Monday through Saturday morning/afternoon - you'll get weekend home time of at least 34 hours and up to 48 hours.

This is a great opportunity for a Florida truck driving job!
Other positions at Roehl Transport
Other positions in Orange Park, FL
Other positions in Florida
Other positions for Van Truck Experience