CDL Truck Driver | Cleveland Home Daily | Dedicated Advantage Fleet - Mentor, OH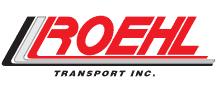 Roehl Transport
Recruiter Information
Roehl Transport
1916 East 29th St
Marshfield, WI 54449

Job Listing
Job Title
CDL Truck Driver | Cleveland Home Daily | Dedicated Advantage Fleet
Internal Job ID
CDLTruckDriver|ClevelandHomeDailyDedicatedAdvantageFleet44060
Position Location
Mentor, OH
Position Postal Code
44060
Endorsements
None Required
Type of Position
Fleet/Company Driver
Experience Level
Required
0 Years
Job Description
Get HOME DAILY!

If you live within 30 miles of Cleveland, Ohio, you can get home every day in this position that is like a local Cleveland truck driving job!

In this dedicated fleet, you'll deliver goods from a distribution center to individual stores. The freight from the distribution center to the stores are all drop and hook.

Pay is a combination of pick-ups and drops, mileage pay, and there is the opportunity to earn performance and quarterly safety bonuses.

Your work week will be Sunday to Thursday, and you'll typically work 12 hour days.

This is a home daily dedicated truck driving job available in the Cleveland area.
Other positions at Roehl Transport
Other positions in Mentor, OH
Other positions in Ohio
Other positions for Other Truck Experience