CDL Truck Driver | Flatbed Specialized Fleet - Margaretville, NY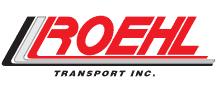 Roehl Transport
Recruiter Information
Roehl Transport
1916 East 29th St
Marshfield, WI 54449

Job Listing
Job Title
CDL Truck Driver | Flatbed Specialized Fleet
Internal Job ID
CDLTruckDriver|FlatbedSpecializedRGNFleet12455
Position Location
Margaretville, NY
Position Postal Code
12455
Truck Experience
Flatbed, Over Dimensional
Endorsements
None Required
Experience Level
Required
0 Years
Job Description
Pick up and deliver overdimensional and specialized flatbed freight.
Involved in project type loads.

Specialized pay plan - a combination of high mileage rate and lots of extra accessorial pay.

This is an elite fleet, with some of the safest, most professional flatbed truck drivers in the nation. You must have at least six months of experience, however we prefer one year of verifiable flatbed experience, be able to go to Canada and be very comfortable tarping loads (tarping overdimensional loads can be very challenging).

Join this fleet and be well compensated for being among the very best in your profession.
Other positions at Roehl Transport
Other positions in New York
Other positions for Flatbed Truck Experience
Other positions for Over Dimensional Truck Experience