Professional Truck Driver for Warehouse Workers | Paid CDL Training & Job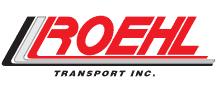 Roehl Transport
Recruiter Information
Roehl Transport
1916 East 29th St
Marshfield, WI 54449

Job Listing
Job Title
Professional Truck Driver for Warehouse Workers | Paid CDL Training & Job
Internal Job ID
ProfessionalTruckDrivertrainingforWarehouseWorkers|PaidCDLTraining&Job23803
Position Location
Petersburg, VA
Position Postal Code
23803
Endorsements
None Required
Type of Position
Fleet/Company Driver
Experience Level
Required
0 Years
Job Description
Truck driving jobs for warehouse workers

Are you tired of working inside? You deserve better. We will pay you as we train to you to Get Your CDL, license you need to be a professional truck driver.

No more loading and unloading or picking items.
No more receiving deliveries - you'll make the deliveries.

You will still be a vital part of the US economy - and you'll have a career rather than a job.

Here's how our program works:
Training to obtain your CDL is part of the job.
You are hired and paid as an employee on day 1.
You'll be paid while you get your CDL.
Your CDL training is three weeks and is available in multiple locations.
After you have your CDL, you'll continue your on-the-job training as a long haul truck driver.
If you were to go to a CDL school, you would not get paid while you are training AND you'd have to come up with the tuition for the school.
We're a stable company that provides full benefits - we invest in you.
Roehl drivers are on track to make $70,000+!
You can leave the carts, dollies, hand trucks and other moving equipment to someone else. Forget about sorting packages based on size and destination. Hop off the forklift and rise up into a new career where you can choose to succeed and we're there to help you!

If you're saying, I've seen enough pallets (either wrapping or building them) and pallet jacks, I want to see the country, then becoming a truck driver is a step in the right direction.

Leave the warehouse labor behind. Become a professional truck driver with Roehl Transport, one of the nation's safest trucking companies.

Want help getting started?

We offer:
Other positions at Roehl Transport
Other positions in Petersburg, VA
Other positions in Virginia
Other positions for Other Truck Experience