CDL Truck Driver | Van Minneapolis to Chicago - Great Home Time - Champlin, MN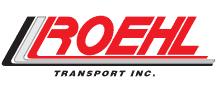 Roehl Transport
Recruiter Information
Roehl Transport
1916 East 29th St
Marshfield, WI 54449

Job Listing
Job Title
CDL Truck Driver | Van Minneapolis to Chicago - Great Home Time
Internal Job ID
CDLTruckDriver|VanMinneapolistoChicago55316
Position Location
Champlin, MN
Position Postal Code
55316
Endorsements
None Required
Experience Level
Required
0 Years
Job Description
Minneapolis to Chicago Regional Truck Driving Job
In this driving job, you'll be home every other day as you run freight between Minneapolis and Chicago. This is a great job for someone who wants to be like a local driver (so lots of home time), get consistent runs (to Chicago and back to the Twin Cities) and still log decent weekly miles.
What will I get paid?
You'll make $1100+ a week.
When will I get home?
You will be every home other day (almost like a local St. Paul driving job).
Where and when will I drive?
You'll run loads back and forth between Minneapolis, MN and Chicago, IL.
Other positions at Roehl Transport
Other positions in Champlin, MN
Other positions in Minnesota
Other positions for Other Truck Experience