Owner Operators - Arkansas , AR, TN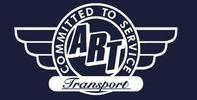 A.R.T TRANSPORT INC.
Recruiter Information
A.R.T TRANSPORT INC.
2505 INDUSTRIAL PARK ROAD
VAN BUREN , AR 72956

Job Listing
Job Title
Owner Operators
Position Location
Arkansas , AR, TN
Truck Experience
Van, Reefer
Endorsements
None Required
Type of Position
I am an Owner Operator
Experience Level
Required
2 Years
Job Description
Attention: Owner Operators
Do You Have What It Takes to be a Bad Boy!
Bad Boy Mower Program
This is one of our Program that we take Great Pride in it is a Family Owned & Operated Company
With American Made Products!
Call A.R.T Transport Inc. @ 479-474-5600 for more details
Why we are Different from all the rest:
We offer Daily Settlements
We Offer Weekly Home Time
No Forced Dispatch
100% FSC
Paid Mileage to Orientation
Discounts to Shops
Base Plate Program
We Pay Cargo /Liability Insurance
Fuel Program
Requirements To Join Our ART Family:
Must Be 24 YOA
Must Have 2 years of Verifiable Experience
No DOT Reportable/Preventable Accidents in 12 Months
No Narcotics or other Drug Related Convictions
Link to our online application

https://intelliapp.driverapponline.com/c/arttrucking?uri_b=ia_arttrucking_1794881620
Other positions at A.R.T TRANSPORT INC.
Other positions in Arkansas
Other positions for Van Truck Experience
Other positions for Reefer Truck Experience