CDL-A Truck Driver - Average $1,400 per Week! - Milford, PA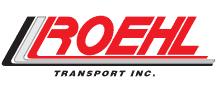 Roehl Transport
Recruiter Information
Roehl Transport
1916 East 29th St
Marshfield, WI 54449

Job Listing
Job Title
CDL-A Truck Driver - Average $1,400 per Week!
Internal Job ID
2_339786_33568
Position Location
Milford, PA
Position Postal Code
18337
Endorsements
None Required
Type of Position
Fleet/Company Driver
Experience Level
Required
0 Years
Job Description
OTR CDL-A TRUCK DRIVER JOBS
Take Home More. Be Home More.®
OTR CDL-A Truck Drivers Average $1,400 per Week, with Top Drivers Earning $1,800+!
Our Dynamic Pay Plan rewards you for your time, not just the miles you drive! You'll also have the opportunity to earn quarterly bonuses!
CDL-A OTR Truck Driver Jobs Offer:
Average $1,400 per week, with top drivers earning $1,800+
Address-to-Address mileage pay – you are paid for more of the miles you actually drive!
Flexible home time:

Out 11 – 14 days; home 3 days
Stay out longer and get up to a week of home time

New, modern equipment
Comprehensive benefits package
Health, dental, vision, and life insurance
Paid vacation
Referral bonuses
Retire in style with a 401k plan and profit sharing
Bring a friend! - passenger (rider) policy
Bring a pet! – pet policy
Our smartphone app helps keep you connected, even when you're away from the truck
24/7 maintenance support
We measure downtime in minutes, not days!
Dry Van, Refrigerated, Curtainside and Flatbed opportunities - varies by location
Earnings are based on an average of actual Roehl drivers with at least one year of experience.
Join Roehl to Take Home More and Be Home More! Apply Today For CDL-A OTR Truck Driver Job Opportunities With Roehl.
Roehl is a fair chance employer. We encourage job seekers to apply. We review every application against the requirements of the job.
Other positions at Roehl Transport
Other positions in Pennsylvania