Class A CDL - Dedicated Team truck driver - Toro - Milwaukee, WI

Schneider
Recruiter Information
Schneider
3101 South Packerland Dr.
Green Bay, WI 54306

Contact:
Driver Recruiting
Phone: 1-800-44-Pride
Fax: 920-592-2974
Website:
Schneiderjobs.com
Job Listing
Job Title
Class A CDL - Dedicated Team truck driver - Toro
Internal Job ID
207095231
Position Location
Milwaukee, WI
Position Postal Code
53202
Endorsements
None Required
Type of Position
Fleet/Company Driver
Experience Level
Required
0 Years
Job Description
Top drivers earn up to $92,000 | Up to $20,000 sign-on bonus per team
Average pay: $1,320-$1,610 weekly
Home time: Weekly
Experience: All CDL holders
Job ID: 211173
Overview
Haul 100% no-touch freight in dry van trailers.
60% drop-and-hook.
10-15 loads per week with multiple stop-offs per load.
Drive within 48 states.
Take your dog or cat on the road with our Team Pet Policy.
Pay and bonus potential
Mileage pay, plus hourly pay while on duty, not driving.
Weekly performance pay.
$10,000 sign-on bonus in 12 monthly payments for experienced drivers.
$2,500 sign-on bonus in 12 monthly payments for inexperienced drivers.
Paid orientation.
Paid time off after 6 months, plus 6 days of holiday pay per year.
Annual bonus: Earn up to 2% of annual gross pay each year

.
Qualifications
Must be a formed team and live within 100 miles of each other.
Valid Class A Commercial Driver's License (CDL).
Valid Commercial Learner's Permit (if interested in company-paid CDL training).

Need CDL training? Explore our company-paid CDL training programs or call us at 800-447-7433, and we can talk you through it.
Additional benefits
Medical, dental and vision insurance.
401(k) savings plan with company match.
Unlimited referral bonuses.
Company-paid CDL training options: tuition reimbursement ($400/month) or CDL Apprenticeship Training (paid five-to-six week training at a Schneider facility).
Credit for Military Experience and Military Apprenticeship programs, plus more military benefits.
Leading equipment and technology specs designed for driver comfort.
More reasons to choose Schneider Team Dedicated driving
Consistency – Enjoy both a predictable schedule and dependable weekly miles.
Reliable home time – Know exactly when and how often you'll get home.
Dependable paychecks – Weekly paychecks reflect the consistent miles you'll drive on a weekly basis.
Insight into our Green Bay team and facility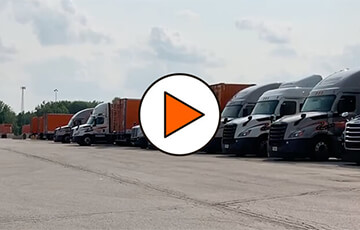 Diversity, Equality and Inclusion
Our history has taught us that treating everyone with dignity and respect is vital to our ongoing success. We embrace and seek out diversity that is inclusive of thought, race, ethnicity, national origin, sex, gender, gender expression, age, religion, sexual orientation, ability, medical condition, veteran or military status, experience and background. We find that this diversity and openness ensures that all our associates have equal access to opportunities and resources to contribute fully to the organization's success, and it fuels innovation, improves strategic thinking and cultivates leadership.
Schneider uses E-Verify to confirm the employment eligibility of all newly hired associates. To learn more about E-Verify, including your rights and responsibilities, please visit www.dhs.gov/E-Verify.
Job
Company Driver
Schedule
Full-time
Sign On Bonus
10000

PI207095231
Other positions at Schneider
Other positions in Milwaukee, WI
Other positions in Wisconsin
Other positions for Van Truck Experience