$20,000 SIGN ON BONUS FOR OWNER OPERATORS - AR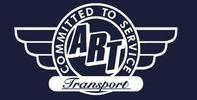 A.R.T TRANSPORT INC.
Recruiter Information
A.R.T TRANSPORT INC.
2505 INDUSTRIAL PARK ROAD
VAN BUREN , AR 72956

Job Listing
Job Title
$20,000 SIGN ON BONUS FOR OWNER OPERATORS
Position Location
AL, AR, CT, DE, GA, IA, IL, IN, KS, KY, LA, MD, MI, MO, MS, NC, NE, OH, OK, OR, PA, SC, TN, TX, VA, WI, WV
Truck Experience
Van, Flatbed, Reefer
Endorsements
None Required
Type of Position
I am an Owner Operator
Experience Level
Required
2 Years
Job Description
ART Transportation prides itself on treating drivers like they are more than just a number, that's why our motto is "committed to service".
We have 30 YEARS EXPERIENCE in the Transportation Industry
We are A 100% Owner Operator Based Company.
ART focuses on helping Owner Operators increase revenue and decrease operational costs.
Let us tell you why you should become a part of the ART family!
We have Several Programs Available for Owner Operators:
Why We Are Different From All The Rest:
We offer Daily Or Weekly Settlements
You Set the Amount of Home Time You Want
100% of the FSC
No Forced Dispatch
You Set the Miles You want to Run
Paid Mileage to Orientation
Discounts to Shops
Base Plate Program
We Pay Cargo /Liability Insurance
Fuel Card Program
Any Age Tractor Okay
Requirements To Join Our ART Family:
Must Be 24 YOA
Must Have 2 years of Verifiable Experience
No DOT Reportable/Preventable Accidents in 12 Months
No Narcotics or other Drug Related Convictions
(479) 474-5600
Link to our online application
https://intelliapp.driverapponline.com/c/arttrucking?uri_b=ia_arttrucking_1794881620
Other positions at A.R.T TRANSPORT INC.
Other positions in Arkansas
Other positions for Van Truck Experience
Other positions for Flatbed Truck Experience
Other positions for Reefer Truck Experience