Refrigerated Dairyland Fleet - Fitchburg, WI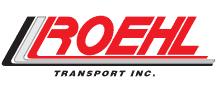 Roehl Transport
Recruiter Information
Roehl Transport
1916 East 29th St
Marshfield, WI 54449

Job Listing
Job Title
Refrigerated Dairyland Fleet
Internal Job ID
CDLTruckDriver|Refrigerated|DairylandEnhancedHomeTimeFleet53719
Position Location
Fitchburg, WI
Position Postal Code
53719
Truck Experience
Van, Reefer
Endorsements
None Required
Type of Position
Fleet/Company Driver
Experience Level
Required
0 Years
Job Description
Get Home More!
In our Dairyland Fleet, you'll haul temperature-controlled freight across Wisconsin and into neighboring states. You'll get the Your Choice Pay Plan™ that gives you options like earning a quarterly bonus or a pay increase each quarter up to our top rate.

This fleet has enhanced home time - including weekends!
We've created additional openings in our Dairyland Fleet that will get you through your home even more! If you live in certain areas, you will get at least one 10-hour break at home during the week and will be home on the weekends for 48 or more hours. If the you leave the house Sunday afternoon/evening, you will be home Friday afternoon/evening. If you leave home Monday morning, you will be home Saturday morning.

You will move mostly refrigerated loads like cheese and other frozen and temperature-controlled products (no milk) and some van loads within Wisconsin and across state borders into Eastern Minnesota, Northern Illinois, and Northern Michigan.
You can add to your income as a Driver Trainer (as much $10k a year) or referring other drivers to Roehl, and we pay you for services many other companies overlook. Learn more about the extras Roehl pays.
Other positions at Roehl Transport
Other positions in Fitchburg, WI
Other positions in Wisconsin
Other positions for Van Truck Experience
Other positions for Reefer Truck Experience