Florida Owner Operators: Bonuses, $330K+ and stable freight - Miami, FL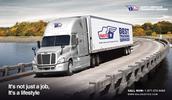 North American Transport Services
Recruiter Information
North American Transport Svs
160 Ali Baba Ave
Opa Locka, FL 33054

Job Listing
Job Title
Florida Owner Operators: Bonuses, $330K+ and stable freight
Position Location
Miami, FL
Truck Experience
Van, Flatbed, Reefer, HHG/Electronics, Other, Auto Carrier, Tanker, Over Dimensional, Heavy Haul
Endorsements
None Required
Type of Position
I am an Owner Operator
Experience Level
Required
2 Years
Job Description
North American Transport Services is the Leading Trucking Company in South Florida! If you are looking for stability, top compensation and endless growth potential North American Transport has all of the resources available to you. We are seeking experienced, reliable and dedicated drivers to join Our Team!
OWNER OPERATOR PAY & BENEFITS:
As an Owner Operator obtain the benefits of our direct customers base, flexible scheduling options & 100% no-touch freight.
*Annual income based upon average load rate and miles driven per month.
Earn up to $330,000 per year
$2,000 sign-on bonus
$0.11 discount per gallon of fuel
Safety Bonus Programs
Steady Freight all year round
Truck Insurance plan options
48 hours load payroll settlement
Direct deposit payments
Fuel Cards – Cash Advances without extra cost
New Trailers (2018-2019) at NO COST.
Dedicated Driver Manager
24 hours dispatch
Fuel Taxes, IFTA, IRP and annual permits preparation – processing fee reimbursement after 6 months
Truck leasing options
CLASS A CDL TRUCK DRIVER REQUIRED QUALIFICATIONS:
Minimum age requirement 23 years old (per insurance requirement).
Must have a valid CDL Class "A" Drivers' license w/ 2 years' experience.
No DUI in the past ten years.
Acceptable driving record.
At least 2 years over the road experience.
All qualified applicants will receive consideration for employment without regard to race, color, religion, sex, gender identity, sexual orientation, national origin, disability or protected veteran status.
Other positions at North American Transport Svs
Other positions in Miami, FL
Other positions in Florida
Other positions for Van Truck Experience
Other positions for Flatbed Truck Experience
Other positions for Reefer Truck Experience
Other positions for HHG/Electronics Truck Experience
Other positions for Auto Carrier Truck Experience
Other positions for Tanker Truck Experience
Other positions for Over Dimensional Truck Experience
Other positions for Heavy Haul Truck Experience
Other positions for Other Truck Experience