COMPANY TEAM DRIVERS NEEDED FOR FOR DEDICATED RUN - EASY-STABLE-GOOD MONEY $$$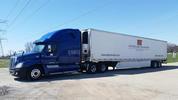 Intermark Freight LLC
Recruiter Information
Intermark Freight LLC
111 S.Washington Blvd
Mundelein, IL 60060

Job Listing
Job Title
COMPANY TEAM DRIVERS NEEDED FOR FOR DEDICATED RUN - EASY-STABLE-GOOD MONEY $$$
Position Location
FL, IL, VA, WI
Endorsements
None Required
Type of Position
Fleet/Company Driver
Experience Level
Required
2 Years
Job Description
Intermark Transport, a 25 year old established and growing family-owned business, is looking for established Class A Teams and Team Drivers for our dedicated run from Chicago to Miami. and back.
Enjoy the stability of a regular, recurring run. It is the same run week in and week out. You will enjoy stable earnings, a stable run, and an excellent work-life balance. Best of all, our drivers are home every weekend for more than 2 full days. If the meager 34 hour reset is burning you out and if you want more time for yourself and your family and you want to continue to earn good money, then we are the firm for you.

Husband/Wife teams are fine. Are you driving solo and looking for a team partner? We can help match you.
Our drivers enjoy competitive compensation which is paid every week. You can get a paper check or an electronic ACH deposit, whichever you prefer,

Our drivers enjoy being home every weekend and we offer generous paid vacations and holidays. .

Operate our well-maintained, late model equipment as a company driver and enjoy our rich benefits program - health, life, dental, vision, 401(k), vacation and holiday pay.


This is your chance to join a winning team!

Contact John for more information 847-388-7708 jchrusciel@shipintermark.com
Other positions at Intermark Freight LLC
Other positions in Illinois
Other positions for Van Truck Experience