CSA Friendly Equipment - OK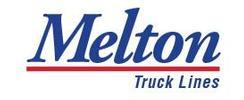 Melton Truck Lines
Recruiter Information
Melton Truck Lines
808 N 161 E Ave
Tulsa, OK 74116

Job Listing
Job Title
CSA Friendly Equipment
Position Location
AL, AR, AZ, CA, CO, CT, DC, DE, FL, GA, IA, ID, IL, IN, KS, KY, LA, MA, MD, ME, MI, MN, MO, MS, MT, NC, ND, NE, NH, NJ, NM, NV, NY, OH, OK, OR, PA, RI, SC, SD, TN, TX, UT, VA, VT, WA, WI, WV, WY
Truck Experience
Van, Flatbed, Reefer, HHG/Electronics, Other, Auto Carrier, Tanker, Over Dimensional, Heavy Haul
Endorsements
None Required
Type of Position
Fleet/Company Driver
Experience Level
Required
0 Years
Job Description
Melton Truck Lines Wants You to be a part
of our winning team.

Call a Recruiter Today, 877-462-3528

NOW HIRING RECENT GRADUATES AND TEAMS!

General Information
Type Of Runs:48 States + Canada / OTR
Time Away From Home: 12-21 Days
Paid Orientation:
Rider Programs - Spouse: YES
Rider Programs - Child: 10 or Older
Pets: Cat or Dog 50 lbs or Less *Some restrictions apply
Pay Information
Ask about our sign on bonus!
• Recent Grads/No Exp - 41 cpm
• 3-12 months of experience - 43 cpm
• 1-5 years of experience - 48 cpm
• 5+ years of experience - 49 cpm
• Top Base Pay - 54 cpm (based on Melton experience)
Benefits
Cost Driver Benefits: $75 /month
Cost Family Benefits: $350 /month
Dental:
Vision:
Retirement:
Bonuses, Other Pay, Miscellaneous
Bonuses:
Breakdown Pay: varies
Loading/Unloading: 100% No Touch
Tarp Pay: $40 per load
Extra Pickup: $25
OD Pay 8cpm
Requirements
Must have a Class A CDL
Must be at least 21 years of age
No DUIs in the past 5 years
Must pass drug screen
Based out of Tulsa, OK, Melton Truck Lines is known for treating its drivers like family. Melton's gleaming fleet of 1,300 blue Kenworth trucks proudly serves customers from coast-to-coast and has been running more than 60 years with a reputation of excellence in the transportation industry.

Melton aims to remain ahead of the competition with top pay and benefits, free on-site clinics and dentists, driver help desk, safety and referral bonuses, rider and pet programs, and much more.
Melton Truck Lines offers world class training to Class A drivers of all experience levels. Did you stop driving but maintained your Class A CDL? Give us a call and we can get you back on the road. No flatbed or stepdeck experience? No problem! We'll train you during our extensive orientation.
Get the successful career you want and the respect you deserve. Complete your application and join the Melton team today!
Don't forget to ask about our limited time sign on bonus when you speak with a recruiter.
Other positions at Melton Truck Lines
Other positions in Oklahoma
Other positions for Van Truck Experience
Other positions for Flatbed Truck Experience
Other positions for Reefer Truck Experience
Other positions for HHG/Electronics Truck Experience
Other positions for Auto Carrier Truck Experience
Other positions for Tanker Truck Experience
Other positions for Over Dimensional Truck Experience
Other positions for Heavy Haul Truck Experience
Other positions for Other Truck Experience