Dedicated Flatbed Trucker Driver - Troutdale, OR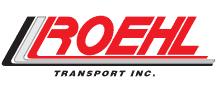 Roehl Transport
Recruiter Information
Roehl Transport
1916 East 29th St
Marshfield, WI 54449

Job Listing
Job Title
Dedicated Flatbed Trucker Driver
Internal Job ID
TruckDriver|OregonFlatbedDedicatedFleet97060
Position Location
Troutdale, OR
Position Postal Code
97060
Endorsements
None Required
Type of Position
Fleet/Company Driver
Experience Level
Required
0 Years
Job Description
In our truck driving job, you'll mostly work for a single customer running from Northern Oregon to Southern California and then back.

We're hiring for this position in the Portland, Salem and Eugene, Oregon areas and in the Reno, Sparks and Carson City, Nevada areas.

You'll haul finished construction products and raw materials for construction products using our flatbed trailers with a roll-tarp system, which means you will not have to manually tarp the loads.

You'll drive Monday - Friday. You will have your weekends off. If you'd like to have days off during the week, an alternative schedule may be available.

You'll average 2,100 miles a week in this dedicated out and back truck driving job.

Here are some of the benefits of this Pacific Northwest Dedicated trucking job:
You will not have to tarp loads - we have flatbeds with rolling tarping system trailers.
You will be home on weekends (other scheduling options may be possible).
Other positions at Roehl Transport
Other positions in Oregon
Other positions for Flatbed Truck Experience