Dedicated CTP Fleet - Home Weekly - Pittsville, WI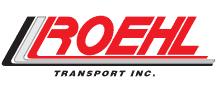 Roehl Transport
Recruiter Information
Roehl Transport
1916 East 29th St
Marshfield, WI 54449

Job Listing
Job Title
Dedicated CTP Fleet - Home Weekly
Internal Job ID
CDLTruckDriver|DedicatedCTPFleet54466
Position Location
Pittsville, WI
Position Postal Code
54466
Endorsements
None Required
Experience Level
Required
0 Years
Job Description
Ready to get more home time and run regular routes? If so, join this great new home weekly Dedicated CTP Fleet!

You'll run lanes between Eau Claire & Tomah, Wisconsin, Sterling, Illinois and Gas City, Indiana. You'll haul paper products for a dedicated customer, getting steady miles along with a steady paycheck and plenty of home time, too.
What will I get paid?
You'll make about $1,200 a week.
When will I get home?
You will get weekly time off.
Where will I drive?
WI, IL, IN, OH.
What will I haul?
Tissue and paper products.

This a great regional fleet wtih excellent weekly home time and solid pay - complete with full benefits and so much more.
Other positions at Roehl Transport
Other positions in Pittsville, WI
Other positions in Wisconsin
Other positions for Other Truck Experience