Truck Driver | Medford Curtainside Dedicated - Medford, OR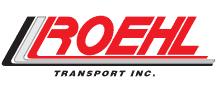 Roehl Transport
Recruiter Information
Roehl Transport
1916 East 29th St
Marshfield, WI 54449

Job Listing
Job Title
Truck Driver | Medford Curtainside Dedicated
Internal Job ID
TruckDriver|MedfordOregonCurtainsideDedicatedFleet97501
Position Location
Medford, OR
Position Postal Code
97501
Endorsements
None Required
Type of Position
Fleet/Company Driver
Experience Level
Required
0 Years
Job Description
In our truck driving job, you'll mostly work for a single customer running from Medford, Oregon to Northern California and then back. You'll make about four trips a week, and you'll be home for part of the weekend.

Here are some of the benefits of this Pacific Northwest Dedicated trucking job:
You'll make daily round trips of 500-600 miles.
You will not have to tarp loads - we have curtainside trailers.
You will be loaded the night before and you'll deliver the next day.
The deliveries are live-unloads, and then you'll dead-head back to Medford, OR to be reloaded.
Your home time is typically Friday afternoon to Sunday afternoon.
Your Choice Pay Plans - options that give you opportunities to earn quarterly bonuses or quarterly raises.
You can add to your income as a Driver Trainer (as much $10k a year) or referring other drivers to Roehl, and we pay you for services many other companies overlook.
This is a great mostly out and back truck driver job in Medford, OR.
Other positions at Roehl Transport
Other positions in Medford, OR
Other positions in Oregon
Other positions for Other Truck Experience